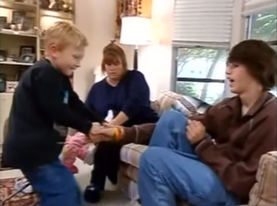 Episode summary
Edit
Jo meets the Young family in Florida, where parents Sherman (aged 38) and Joelle Young (aged 37) work opposite job shifts with Dad watching the kids during the day and then dropping them off with Joelle before leaving for work for the evening.
Five-year-old Shermie is disrespectful and aggressive towards his mother and 3-year-old sister, Shelby also acts up and refuses to sit at the table with her family. The two of them tend to climb up on the walls & shelves and they refuse to stay out of their big brother's bedroom.
Thirteen-year-old big brother Dylan feels like he's forced to spend time with his rambunctious younger siblings and wants his time alone & also with his parents. He just locks his bedroom door so that Shermie or Shelby can't get in his bedroom.
Sherman is completely clueless when it comes to playing with his kids while Joelle yells at the kids which only makes them ignore and disrespect her more. Can Jo help the Young family out?
Full Young Family episode on YouTube
In the news
Edit
Sarasota mom happy with 'Supernanny' portrayal - Sarasota Herald-Tribune, 3/29/2006.
Family members
Edit
Ad blocker interference detected!
Wikia is a free-to-use site that makes money from advertising. We have a modified experience for viewers using ad blockers

Wikia is not accessible if you've made further modifications. Remove the custom ad blocker rule(s) and the page will load as expected.