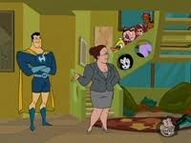 Supernanny has been referenced in other media.
Drawn Together
Episode 7 of Season 2, "Super Nanny", aired on December 7, 2005. It contained a storyline involving an animated version of Jo Frost named Super Nanny attempting to take over the White House. Super Nanny uses the Naughty Stool (a technique first used in the Jeans Family episode) frequently.
Upon seeing the reality TV show Super Nanny, Captain Hero purposefully acts out so he can summon Super Nanny and challenge her once and for all, believing that anyone or anything with the word "super" in front of their name is a foe to him and must be defeated. Super Nanny proves to be more than a match for Hero, however. She responds to every one of his tantrums by making him sit on the naughty stool. In one clip, Captain Hero pushes away his dish full of food, refusing to eat and saying "I'm not eating", referencing something Chase said during the Christiansen Family episode. Hero starts behaving himself, gradually earning Super Nanny's approval and lollipops.
Everything goes awry, though, when he angrily asserts that the barrette Toot is wearing is actually his. Toot tells Super Nanny that Captain Hero is trying to steal her barrette, and she sends him to the naughty stool once again. During his extended stay on the stool, Hero learns that the White House is being invaded by mini-troopers. He tries to call all of his superfriends, only to find that none of them can help because they're all stuck on the naughty stool as well. Captain Hero puts two and two together, and realizes that it's all part of Super Nanny's evil plot—she has rendered the world's superheroes helpless while she leads an invasion of "super-disciplined" children to take over the White House. Hero is reluctant to leave the stool, but after Foxxy proves that the barrette in Toot's hair really belongs to Captain Hero (because it has his logo on it), the housemates finally convince him that saving the world is more important than being a good boy, so he flies to Washington to foil Super Nanny's plot. He does this by stomping on her foot really hard, causing her to curse, and then sends her to the naughty stool. This breaks her spell over the children, and they promptly tear her to shreds.
South Park
A cartoon version of Jo Frost appears in episode 7 of season 10, "Tsst". It aired on May 3, 2006.
Becoming Human
"Update 16 - Brandy's dad in Brawl" - The text at the bottom left of the newspaper clipping says "er Nanny". The letters S, u, and p appear to be cut off. The blog was posted on February 7, 2011.