Supernanny started life as a TV series and quickly caught on. There are now different 'Supernannies' on air in France, Germany, Brazil, Spain, Denmark, The Netherlands, Israel, Belgium, Austria, Croatia, Poland, Romania, Russia with five further local format versions in production from Chile to Slovakia. Added to this, the UK and US English-language version is now broadcast in 47 different territories, reaching tens of millions of viewers.
Outside references to Supernanny
Supernanny U.K.
Edit

In the UK on Channel 4, the fourth series of Supernanny continues to pull a loyal audience with over 3.5 million viewers tuning in .According to the Sunday Times, "every mum needs her Supernanny.. ", while The Observer advise "..watch and be amazed." 
Theme songs
Edit
Supernanny U.S.
Edit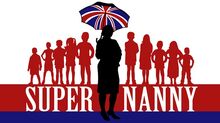 On ABC in the USA, Supernanny, also starring Jo Frost, consistently attracts 10 million viewers per episode and producers, Ricochet, are filming a third season from ABC to air from December 06. According to the New Yorker .. "There is something here for everyone: people without children will enjoy watching ...; people with children will learn how to improve the lives of everyone in their family; and people who used to be children will find new answers for why they themselves turned out so badly .."
Theme songs
Edit
"Be Good Johnny" by Men at Work
Spin-offs
Edit
Supermanny
Edit
This reality project centers on the tough-love guidance of Chicago-based child therapist Mike Ruggles.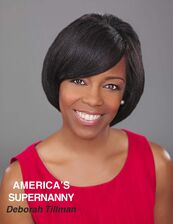 America's Supernanny
Edit
Hosted by Deborah Tillman, the series aired on Lifetime TV from November 29, 2011, to March 6, 2013.
After Supernanny was canceled in 2011 due to low ratings, a spin-off show aired on Lifetime titled, "America's Supernanny." Rather than Jo Frost , the spin-off featured child care center founder and mother, Deborah L. Tillman. However, just like Jo, Deborah did the same job of visiting families in need of help with their children, observing the first day, talk to the parents about what was wrong, and find solutions to help the family for the better.
Wiki for America's Supernanny