Episode summary
Edit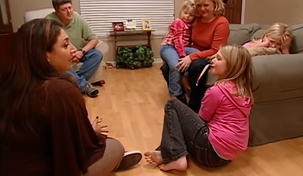 Jo visits the Schrage family in Murfreesboro, Tennesse where Christy (39) and Kyle (36) have three daughters: 10-year-old Ellie, 6-year-old Emma and 4-year-old Cara.
The girls have little rules or discipline around the house and they won't even respect their live-in grandmother, Memaw's (77) privacy.
The girls don't even sleep in their own beds and their parents, haven't slept in the same bed together for a long time. Even though Cara's four years old, she still has a pacifier or "paci."
Can Jo help Kyle & Christy learn to discipline their daughters? Can she come up with a proper bedtime routine for them and help wean Cara off her pacifier?
Family members
Edit
Submission reel on Supernanny US YouTube channel
Teaching bedtime routine on Supernanny US YouTube channel
New house rules on Supernanny US YouTube channel
Bye Bye Binkie on Supernanny US YouTube channel
DVD meeting on Supernanny US YouTube channel