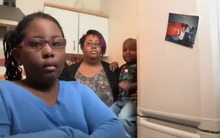 Max and Trenyce[1] is the second episode of Series 2 of Jo Frost: Extreme Parental Guidance.
Episode Summary
Max
Jo is on a mission to help a single mother Jo (37) with her 3 children who has a twelve-year-old boy called John, a nine-year-old boy called Max and a five-year-old girl called Willow. Max will not eat hot meals.
Trenyce
Sheryl (36) has a seven-year-old girl called Trenyce and a three-year-old boy called Tristiane. Trenyce is bullied at school, and she lets out her anger at home.
Family Members
Trenyce
References
External Links