Rhys Brown (born May 17, 2001) is the middle child of Simon and Stephanie and younger brother to Lewis (aged 7) and older brother to Lucy (aged 9 months). He had a tendency to fight with Lewis and talk back. Unlike Lewis, he was only sent to the Penalty Spot 4 times. He was worse than Lewis. He was 5 years old at the time and is now 16 in 2017.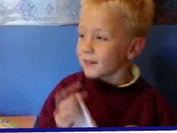 Ad blocker interference detected!
Wikia is a free-to-use site that makes money from advertising. We have a modified experience for viewers using ad blockers

Wikia is not accessible if you've made further modifications. Remove the custom ad blocker rule(s) and the page will load as expected.