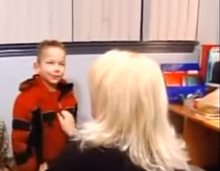 Nicholas William Carsley (born December 10, 2000) is the son of Cheryl, the twin brother of Caleb, the younger brother of Chantal and the older brother of Bobby & Elijah.
He seems to fight with Elijah in observation. He threw Elijah into the wall.
He was 5 years old at the time of his appearance on "Supernanny" and as of 2018, he is 18 years old.