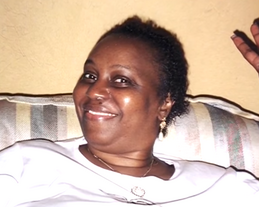 Dorothy Lee Miller Williams (Nana) (born October 12, 1955, died June 19, 2008) was the Newsome Family's nanny. She was Blythe's childhood nanny growing up and then became a nanny to Blythe's children.
Sadly, she died of breast cancer at age 52 on June 19, 2008.
If Nana was alive, she would be 62 years old today.
Nana's obituary - From this, we learn her full name was Dorothy Lee Miller Williams and died at age 52. (Her daughter, Angela, is friends with Blythe on Facebook.)
When You're Left Behind: The Impact Of Breast Cancer On A Family - Blythe's ModernMom blog. We learn Nana's birthday is October 12.
A Journal of One Family's Loss to Breast Cancer - Blythe's ModernMom blog. We learn Nana had been Blythe's childhood nanny since she was a little girl, and came to care for Blythe's children after she divorced and went back to work. We also learn Nana died June 19, 2008.