Episode summary
Edit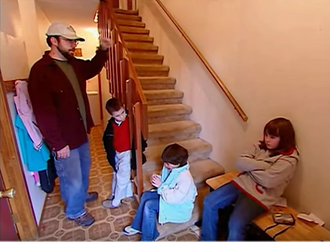 Jo flies to Eagle River, Alaska to come to the rescue of a divorced father named Brian (29) and his 4 children: Eliana "Ellie" (9), Silas (7), Kaia (5) and Anna (3).
Brian has a hard time relating to his daughters because they want to do "girl things" with him and he's not into it. He also has some social anxiety that makes him reluctant to reach out to other parents in his neighborhood or at the children's school.
Ellie has mood swings. She can be stubborn and defiant. She and her dad had a strained relationship.
Kaia is very stubborn. She would throw temper tantrums to get her own way.
Although Anna doesn't act out as much as her older siblings, she can get away the most. She is also beginning to copy Kaia's temper tantrums, but she doesn't throw as many tantrums as Kaia does.
Silas is the worst behaved out of the 4 children. He's very aggressive and has a bad temper. He would hit and hurt his sisters and his dad and call names. In addition he gets frustrated with his homework and refuses to do it. Not only he acts out at home, but he acts out at school. He would disrupt class and bully other students.
All the kids don't respect and listen to Brian and there's zero discipline in the house. Can Jo help this single dad out?
Can Supernanny help this divorced father become closer with his daughters and son before the family falls apart?
Full episode in parts 1, 2, and 3 on DailyMotion (dubbed in French, not great quality)
Full episode on YouTube
Life after Supernanny - Brian spills the beans - Interview with Brian about his Supernanny experience
In the news
Edit
Supernanny's lessons hold fast for Eagle River family - Alaska Star, 3/1/2007. In this, we learn that Jo flew by seaplane not to Eagle River, which is a suburb of Anchorage and thus accessible by conventional means of travel, but to a more remote area, Lake Hood. Brian didn't know about that until he watched the show.
Supernanny Helps Eagle River Dad Tame Brood - Anchorage Daily News, 2/18/2007.
Family members
Edit
Ad blocker interference detected!
Wikia is a free-to-use site that makes money from advertising. We have a modified experience for viewers using ad blockers

Wikia is not accessible if you've made further modifications. Remove the custom ad blocker rule(s) and the page will load as expected.