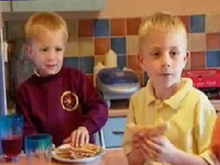 Lewis Brown (born April 14, 1999) is the oldest of Simon and Stephanie, and the older brother of Rhys (aged 5) and Lucy (aged 9 months).
Although Lewis didn't act out as his brother Rhys, but he still talked back and fought with Rhys. Unlike Rhys, he was only sent to the Penalty Spot twice.
When He was 7 years old at the time he appeared and is now 18 in 2017.
Ad blocker interference detected!
Wikia is a free-to-use site that makes money from advertising. We have a modified experience for viewers using ad blockers

Wikia is not accessible if you've made further modifications. Remove the custom ad blocker rule(s) and the page will load as expected.