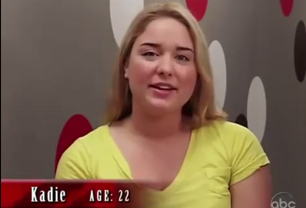 Kadie Sue Anderson (born 1988) is the nanny of Jack, Josh, Sean, Max, and Mia Swift.
Kadie gave Supernanny a call because she was concerned about the children's safety, especially baby Mia.
When she meets Jo, Kadie explains that there are no rules in the house, and the parents have never given her a game plan on what to do when the boys misbehave. However, Jenny and Tony expect Kadie to deal with the children for them, even though they're not doing anything.
She was 22 years old when she appeared on "Supernanny" and is now 29 in 2017.
Ad blocker interference detected!
Wikia is a free-to-use site that makes money from advertising. We have a modified experience for viewers using ad blockers

Wikia is not accessible if you've made further modifications. Remove the custom ad blocker rule(s) and the page will load as expected.