Episode summary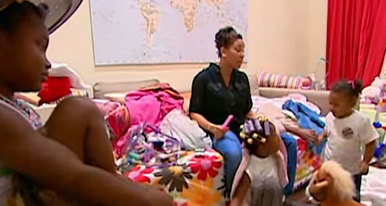 Nanny Jo heads off to Houston, Texas to give a hand to NBA basketball player Mike James (32) and his wife Angela (32) with their four daughters: 8-year-old Jadon, 5-year-old Amaya, 20-month-old Michal, and 7-month old McKinley.
With Mike away from home during the NBA season, Angela is left to look after the girls while he's gone.
The two older girls fight with each other and little Michal is picking up their bad behaviour. Angela admits the girls run the house and they're out of control.
The family evening/bedtime routine is unstructured and the girls don't even sleep in their own room and end up sleeping in the playroom. The family's outdoor pool isn't even child-proofed.
Mike is resistant towards Supernanny's techniques and Jo has a major bone to pick with him. Can Jo help Angela put together a structured daily routine and get Mike on the same team with Supernanny?
Video
Full episode in parts 1, 2, 3, and 4 on YouTube
NBA Basketball Player Struggling To Control His Daughters (submission reel) - Supernanny US YouTube channel
Child Goes Missing While Mother Works At Home and Jo Clashes With NBA Superstar (observation) - Supernanny US YouTube channel
In the news
Morning Look: Mike James on Supernanny - D.C. Sports Blog, 12/17/2008. Mostly commentary about how unpleasant this episode is and how Mike comes off as a total jerk.
NBA Star Mike James: "I Love Being A Dad" - Celebrity Baby Blog, 12/23/2009. Angela explains they mainly did this to learn how to cope when Mike was on the road.
Family members