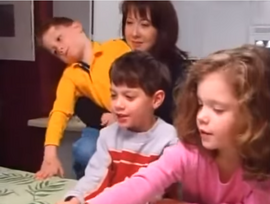 Episode summary
Edit
Jo visits the Jackson family in O'Fallon, Missouri where parents Terry (37) and Lisa (34) have their hands full with their 5-year-old triplets: Ethan, Will and Isabella.
With Terry working for a car sales company in Kansas City six days a week, Lisa is left to take care of the kids by herself. Ethan throws tantrums when he doesn't get his own way, Will tends to get very clingy when Terry comes home and out of all three kids, Isabella has the worst temper and tends to be very physical.
Can Jo restore peace to this house or has the battle just begun?
Full Jackson Family episode on YouTube
Family members
Edit
Ad blocker interference detected!
Wikia is a free-to-use site that makes money from advertising. We have a modified experience for viewers using ad blockers

Wikia is not accessible if you've made further modifications. Remove the custom ad blocker rule(s) and the page will load as expected.