Episode summary
Edit
Jo visits the Hallenbeck Family in Mesa, Arizona. Patricia (57) and Cliff (65) are grandparents who should be enjoying their golden years. But instead, their daughter Kristin (25) still lives with them and has two boys: Jordon (6) and Jaydon (4) whom she expects her mother to raise while she surfs the net, watches TV and texts friends.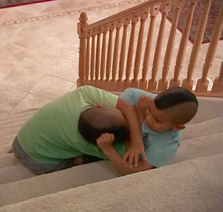 Kristin doesn't get along with her own parents and the lack of respect has carried into the next generation. The boys completely act out and like their mother, have no respect for their grandparents. They walk all over their grandparents who are exhausted by their constant fighting, backtalk and misbehavior.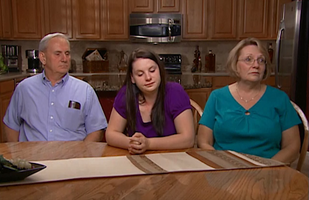 Kristin openly criticizes and undermines her mother over things like what her kids eat and whether or not the children need to follow their grandparents' wishes.
Jo candidly admits she's horrified, disgusted and "gobsmacked" by Kristin's selfishness and plans a serious wake-up call for this family. But is Jo too late to make a difference?
Transcript
Edit
Episode transcript on Ark.TV
Supernanny Tells Mom 'To Grow' Up After She Expects Her Parents To Look After Her Kids - Supernanny US YouTube channel (Observation, Parent Meeting)
Mom Slips & Falls After Out Of Control 5Yr Old Pours Water On Floor - Supernanny US YouTube channel (Teaching)
6 Yr Old Tells Supernanny "Mommy Doesn't Care" - Supernanny US YouTube channel (Family Test Run)
In the news
Edit
Recap and commentary on THE UNIMPORTANT OPINION blog (warning; some swearing)
A Selfish Single Mom Makes Her Aging Parents Do All the Work Tonight on "Supernanny" - Mostly teaser from ABC press release
Family members
Edit
Ad blocker interference detected!
Wikia is a free-to-use site that makes money from advertising. We have a modified experience for viewers using ad blockers

Wikia is not accessible if you've made further modifications. Remove the custom ad blocker rule(s) and the page will load as expected.