Episode summary
Edit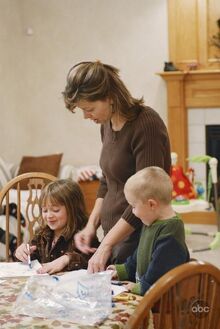 Jo meets parents
Amy
(51) and
Dale Costello
(59) of Medina, Ohio, the largest family she's ever encountered with 10 kids:
Logan
(25),
Carley
(23),
Chaslyn
(21),
Joelle
(19),
Corban
(18),
Addison
(16),
Nolan
(14),
Bryson
(12),
Cameron
(11) and
Keaton
(9). Amy is set on her dream of having 12 children, but her husband doesn't agree.
As the parents had 10 kids, these parents force 15 year old Logan to act like a dad. He is stressed out and has had a panic attack once. He just feels that raising his 9 siblings is a hard job to do. Carley and Chaslyn also have to watch their younger siblings as well. They are also fed up and so stressed. The parents are blaming the three older kids for not doing a good job taking care of them.
Meanwhile the 6 middle kids are acting out (ages 2-11). They fight constantly and aggressively. They are very rowdy by screaming and shouting and they talk back. They also run around the house.
Can Jo get the parents to understand it's their responsibility to take care of the kids?
Transcript
Edit
Transcript on ArkTV.com
Full episode on YouTube
Family members
Edit
Dale Costello, 59
Amy Costello, 51
Logan Costello, 25
Carley Costello, 23
Chaslyn Costello, 21
Joelle Costello, 19
Corban Costello, 18
Addison Costello, 16
Nolan Costello, 14
Bryson Costello, 12
Cameron Costello, 11
Jocelyn Costello, 8
Johnny Costello, 5
Ad blocker interference detected!
Wikia is a free-to-use site that makes money from advertising. We have a modified experience for viewers using ad blockers

Wikia is not accessible if you've made further modifications. Remove the custom ad blocker rule(s) and the page will load as expected.