Episode summary
Edit
Jo visits the Colombo family in Melbourne, Florida where Joe (41) & Danielle (30) have three children: 4-year-old Carlo, 3-year-old JJ and 1-year-old Julia.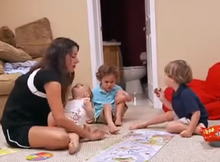 With Joe working long hours, Danielle is left alone to care for the kids. JJ is quite a physical kid: he hits, kicks, punches and slaps while Carlo is a picky eater and has a scream (which according to Danielle) "takes your breath away."
When Jo arrives, Danielle is happy to see her, but when it comes to an issue during nap time, the two of them butt heads.
Can Jo help out the Colombo family?
This is the last episode to have a Florida family.
The children are all under 5 years old.
There are No Teenagers in this episode
Full Colombo Family episode on YouTube
Family members
Edit
Ad blocker interference detected!
Wikia is a free-to-use site that makes money from advertising. We have a modified experience for viewers using ad blockers

Wikia is not accessible if you've made further modifications. Remove the custom ad blocker rule(s) and the page will load as expected.