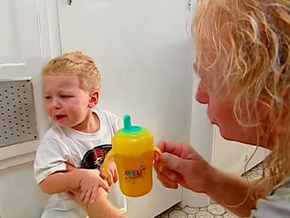 In this technique, the parent explains the child will no longer get drinks via a bottle, and only offers a sippy cup.
Bye Bye Bottle
Edit
Jo introduced this technique to the Christiansen Family .
1. Get replacement sippy cup
2. Explain to child he/she is too old for the bottle
3. Dispose of bottle
Bye Bye Bottle on Supernanny US YouTube channel (Smith Family)
Ad blocker interference detected!
Wikia is a free-to-use site that makes money from advertising. We have a modified experience for viewers using ad blockers

Wikia is not accessible if you've made further modifications. Remove the custom ad blocker rule(s) and the page will load as expected.