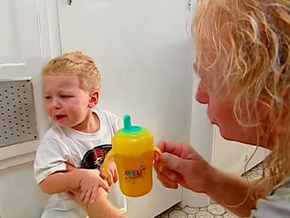 In this technique, the parent explains the child will no longer get drinks via a bottle, and only offers a cup because he/she is a big boy/girl now.
Bye Bye Bottle
Edit
Jo introduced this technique to the Christiansen Family .
1. Get replacement cup
2. Explain to child he/she is too old for the bottle
3. Don't give in when child throws a tantrum.
4. Dispose for bottle.
Bye Bye Bottle on Supernanny US YouTube channel (Smith Family)