Anaya is a friend of Andrew and Sean Weston.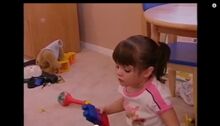 When Anaya had a play date with Andrew, Andrew colored on her drawing, twice, sending her to tears after Andrew attacked her and trying to get her parents to help. Later, Anaya tried to build with the blocks, but Andrew got angry, so he grabbed her face and pulled it to his, once again sending her to tears. After he threw blocks at Anaya and causing her to tear up again, Anaya and her family had to leave and Andrew had to be sent to his and Sean's room for time out for 18 minutes.
Family members
Edit
Amy (mother)
Ben (father)
Ad blocker interference detected!
Wikia is a free-to-use site that makes money from advertising. We have a modified experience for viewers using ad blockers

Wikia is not accessible if you've made further modifications. Remove the custom ad blocker rule(s) and the page will load as expected.